Real Estate Market Is Currently Mixed


Looking at the current state of the real estate market, the best description would be that there's a lot of variation. It's a mix of conditions and circumstances. The market is both strong and also showing signs of weakening. So how is that possible? Here's a real-life example: We recently had a listing receive multiple offers, with several interested buyers, and at the same time another property fielded zero offers. In a market with historically low amounts of inventory, this is an anomaly.

Right now, we're seeing a lot of variability in prices and offers based on the type of property going to market. There is a difference in interest levels depending on whether the property is highly attractive, with few if any flaws, and whether the property is simply solid or average. Mediocre properties that look dated, with few if any upgrades are currently flooding the market, with many of the sellers still trying to command top dollar. Those are the properties that see fewer offers.

Buying and selling in a mixed market like the one we are in is where the quality of representation truly matters. Whether you're buying or selling in these tumultuous times, we would be honored to be your guides on this journey, and we are committed to finding you the right situation and outcome you're looking for.
Introducing New Team Member Alyssa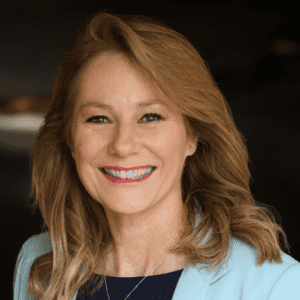 Welcome
Alyssa Rozenbaum
to the Highland Premiere team! Alyssa is a business savvy, proactive real estate agent with a commitment to developing positive client relationships. A Brazilian native, she speaks four languages: English, Portuguese, Spanish, and French. She uses her exceptional communication skills to help clients reach their goals of homeownership.
Alyssa's real estate journey began in property management, a role she worked in for 14 years before earning her license in 2021. She has significant social media marketing experience and is able to create compelling listings to attract potential buyers. Transparent and direct, she works to understand her clients' needs, and she uses her knowledge of the local market to help them find their dream properties. Her secret to success is being calm yet firm in her negotiations, and her clients achieve the best possible price in each transaction.
In her free time, Alyssa enjoys baking homemade bread, including challah and sourdough. She is active in the local Brazilian community and enjoys helping students and couples who are new to the United States find housing in the Los Angeles area.
Highland Premiere Scores an A+ Rating on Expertise.com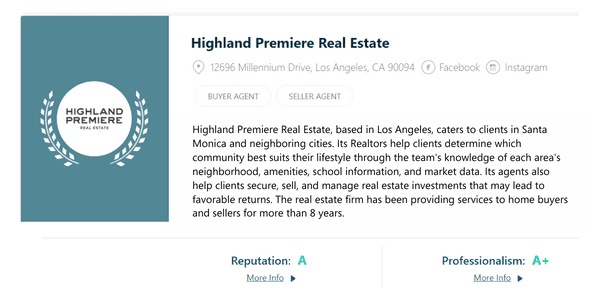 We were delighted to learn that Expertise.com recently bestowed Highland Premiere with an A+ rating, recognizing us as one of the best real estate agencies in Santa Monica! This website is a source for professional services in the community.
Unsolicited, Expertise.com identified Highland Premiere as a top local real estate firm, validated our credentials, licensing and expertise then scoured public records, reviews and review scores to analyze our reputation. We were scored on our professionalism, responsiveness, friendliness, helpfulness and attention to detail. We are proud of our team and how committed they are to our clients. Read how we scored straight A's
here
.